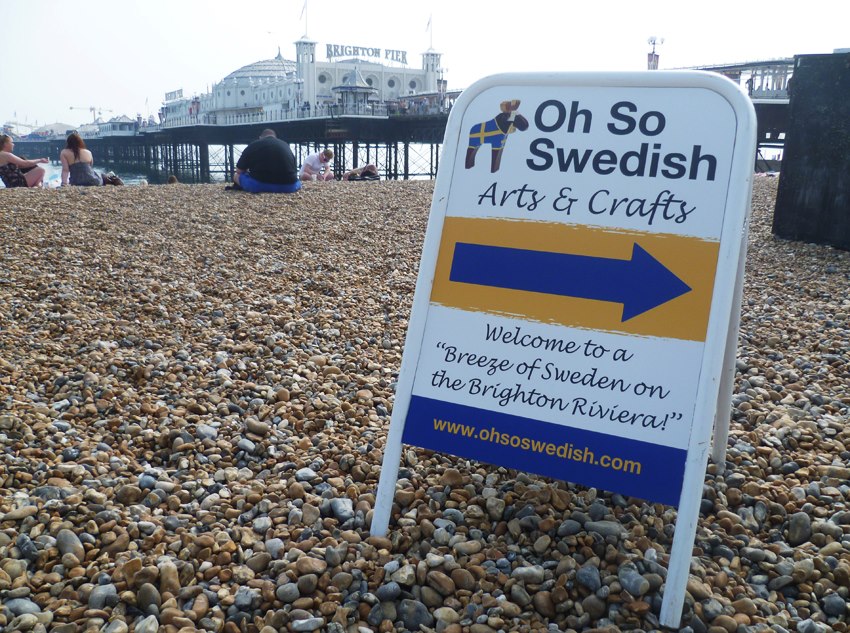 All-year open studio with Swedish arts & crafts, limited edition of handmade crafts you won't find somewhere else. My own designs and from creative sources in Sweden.

Handmade crafts made of wood, clay, rope, textile, recycled and natural material (driftwood, stones etc.), handmade soap, wooden toys, wooden cutlery and trays.
Small selection of second hand books in Swedish, mainly by Swedish & Scandinavian authors. Book swap:  bring 2  take 1
Offer a small selection of Swedish sweets & liquorice in bags
Swedish prints  &cards including the popular Swedish Nostalgia postcards & posters :  adverts from 50's, 60's and the 70's images of Volvo, SAAB, Swedish MC & bicycles, ships, fizzy drinks and more.
Hosting Swedish art exhibitions
External handmade crafts markets
Participating in local events and creative networks.
Tourist information : A small VIP – Visitbrighton Information Point (one of 15 in the city)- providing free maps & leaflets) & Informal tourist information about Sweden – happy to answer queries for those who wish to know more about  Sweden.
Creative Workshops  in handmade crafts for small groups.
Offering language tuition in Swedish in small groups/beginners level & conversation (Brighton only).
Prime location: Right on the pebbles at Brighton Beach between the iconic Brighton Pier and the beautiful Wheel.
Web shop or direct from OhSoSwedish Arts & Crafts Studio & workshop – affordable, natural & handmade products.
Payment: only cash in Seafront Studio – Web shop – PayPal.
Sustainable packaging – using recycled or eco-friendly paper carrier bags & packing as much as possible.
VÄLKOMNA – WELCOME