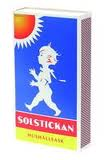 Swedish Matches- "The Cigarette Butts and matches" Ruben Nilsson(1893-1971)
Cigarette butts and matches  *translated by google
T: Ruben Nilsson

Out in a gutter in a square, among the garbage and there was a small butt and crying and not far from,
there was a small stick from Kreuger's match city
two lost souls from the night's masquerade.

"Excuse nice butt," he said, "a poor match children; has not yet been sacrificing himself in life's treadmill.
I was born into a large machine in Kreuger's match stick factory,
" he made us out of nothing, and therefore he became rich. "

"Oh, so very interesting," said hello butt mild,
I am of good old family, the dynasty Chesterfield.
It was a mistake probably that I was thrown away,
" it burns in his youth, difficult and therefore will be short. "

"Well Miss, I too am out of ancient lineage;
Three stars was the name that was on the ash label,
and I have many brothers I, we live in every country,
we light a fire, we spread the light, we set everything on fire.

"Oh, if you could set fire, to me," said butt wild,
then you would get a taste of a true Chesterfield,
and though I was not quite as wild as in my younger days' 
I have a delicious flavor, the aroma of the fine to go. "

But suddenly silenced 'both of them and saw with horror filled me, 
a higher being that passed by the city sweeper,
and in a cloud of street dust, they were separated,
and no one noticed the matches woe and Stubby bitter tears.

But at a tip at Riddersvik where she and he were reunited,
they lay among the rags and rubbish, closely pressed against each other, 
and the sun shone and set fire to strip the main knob,
and butt went up in smoke and the match was burning up.