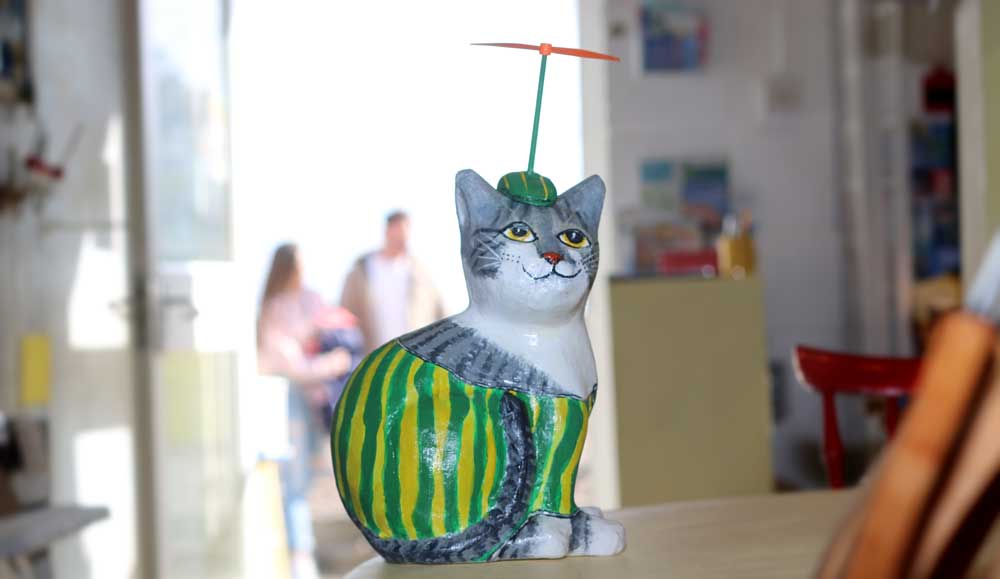 Snowcat trail hits Brighton in May
Almost 50 magical snowcats will be playing hide and seek this May for Lost Cats Brighton around Hanover – which is also soon to become home to one of the snowdogs from the Martlets Hospice trail which hit Brighton and Hove last November.
Each of the snowcats has been created with a distinct personality by a different local artist, who have all generously donated their time and talent to help raise much-needed cash for the popular cat rescue and re-homing charity.

The cat-sized Snowcats will all be visible from the street, peering out of windows in the Hanover area of Brighton. The trail will remain in place throughout May, making it an ideal outdoors activity for school children and parents during half term – and for visitors to the Open Artists Houses also taking place that month.

The Snowcats are on the lookout for potential new owners, as each one will be found a new home at an auction in June, with all the proceeds going to Lost Cats Brighton.

There are also mystery prizes to be won, setting off with a trail map, available at various local businesses, the challenge is for you to locate all of the Snowcats.

The Snowcat Trail is the idea of Lucy Clifford, who has combined two of her passions, cats and art, to help Lost Cats Brighton raise funds needed to find the charity a new home, following the death of their founder earlier this year.

She said: "Brighton's Snowcat Trail has been made extra special by the incredible generosity of so many local artists, with different skills, styles, and techniques.

"The trail is an eclectic cat walk and a fresh air art gallery that will appeal to a wide audience: from primary school children seeking out the beautiful cats, to art connoisseurs planning to bid for a unique work of art at the auction in June."

The snowcats include cool tattooed cats, courtesy of Black Sail Tattoos; and a tribute to 80's pop icon Jimmy Somerville including an autograph and photograph of the singer.

Full story in Brighton and Hove News here.