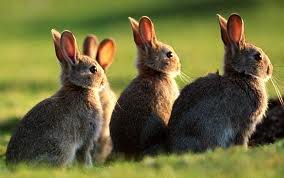 Rabbits, Rabbits, Rabbits (*Kaniner/ Swedish) – Swedes should eat eat more rabbits!
Kaniner, Kaniner, Kaniner: I have been watching so many of these cute furry friends from my window in Kaninlunden *The Rabbit Grove, Stockholm, never thought of eating them, though?  
However, certainly better to eat them than to burn them to keep the Swedes warm. See article about the Rabbit cull and  using them as fuel : http://www.thelocal.se/22610/20091012/
"We need to find alternative sources of protein which don't strain resources to the same extent," said Carl-Gustaf Thulin, Director for the Center for Fish and Wildlife Research at the Swedish University of Agricultural Sciences (Sveriges lantbruksuniversitet) to the Sydsvenskan newspaper.
This, Thulin argues, could be alleviated should Swedes just get over their qualms about their furry friends and look at rabbits as food instead of as pets. 
Please read more:  http://www.thelocal.se/39218/20120220/