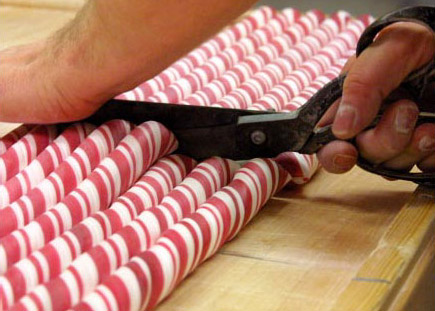 The story of the famous candy from Gränna – Polkagrisen
Mrs Amalia Eriksson began to make this candy sticks just here in Gränna in the middle of the 19'th century. This candy has made Gränna to a very popular town for tourists. About 600 000 – 800 000 people come to visit Gränna every year.
 Amalia was born in Jönköping and married the tailor in Gränna. They had a daughter named Ida. Amalia was only 34 years old when her husband tragically died and Amalia became a widow and a single mother with a little daughter to support. At that time Amalia had started to make some candy called "Funeral-sweets". She wanted to increase the production and applied for permission to start making the "Polkagris". The Mayor of Gränna, Carl-Johan Wennberg, signed the permission in 1859 so Amalia could run a company of her own, something extraordinary for a young woman at that time. It didn't take long before people all around knew about the candy from Gränna. Nobody knows for sure where Amalia got the recipe but some say it might come from Munich in Germany.
Amalia kept her candy sticks, red and white-striped with a taste of peppermint, in a chest of drawers in her home. Her house is still situated in Gränna at Brahegatan 2. In the chest of drawers, old documents has been found, telling about the life of this remarkable woman. There are death certificates, dated 1838, saying that all her relatives, who lived in Jönköping, died of cholera.
Amalias daughter, Ida, maintained the handicraft and even developed what her mother had started. The first person, outside the family, who was informed of the secrets of making this candy was Ms Greta Nordstedt. She lived in the "Nordstedts' House" at Brahegatan 39, the same house in which Grenna Polkagriskokeri is situated today.
At Grenna Polkagriskokeri we try to maintain the old traditions and we make polkagrisar almost exactly the same way today as Amalia did 150 years ago.
Because of Gränna´s position, between Stockholm and Gothenburg, the town always has been a passage for travellers. People from all over has learned about this special candy and since Gränna used to be the only place where you could buy it a stop in Gränna was necessary. This is the oldest souvenir in Sweden.
In the middle of 1950's the production increased in Gränna and making "Polkagrisar" became a small industry with several confectioneries "popping up". In the beginning the candy was made by housewives at home, and sold in all kind of stores. Olle Mattias was the first person who let people watch during production. Today all confectioneries in Gränna have a window to show their production and tourists enjoy it a lot!
In the early 1970's a new type of polkagris was born, a blue- and yellow-striped still with peppermint-taste. Many people thought it was a scandal that the old tradition was ruined. Today we have more than 15 different flavours but it is only the red and white with peppermint we call Polkagris, the others are candy sticks. Since 1995 we even have  sugar-free sticks. A perfect candy if you´re not supposed to eat sugar or if you're a "weight-watcher", one stick contains only 120 calories.
Grenna Polkagriskokeri has three words that shines through everything we do. These words are Tradition, Quality and Handicraft".
We use the traditional recipe and we belive it's important to maintain the tradition that surrounds the Polkagris. Never the less, quality is important! The production is very careful and exact even though parts of the secret comes from the feeling and work of the baker´s fingers. The ingredients are important for a good quality. We only use natural ingredients such as for example sugar, vinegar, peppermint oil, butter and cream in our products. Even colours are natural.
Everything around us develops and so does even the Polkagrismaking, though there is one thing that we never will renounce -The handicraft! Making a Polkagris is a handicraft and that is the way it should be. We are proud to be able to show the customers through a big window screen between confectionery and shop that we don´t use machines. You can follow the production from the mixture in the kettle to the Polkagris wrapped into paper. We can guarantee that everything, made in our confectionery, is made by hand so even our unique toffee lollipop. This lollipop is a candy with roots in the 1930's. The characteristic is the peg of wood and the paper cone. The elderly generation often gets something nostalgic in their eyes when they see it and realise that "their candy" is still made. It's a product that is well known in all of Scandinavia.
read more http://www.polkagris.com/the-polkagris-story