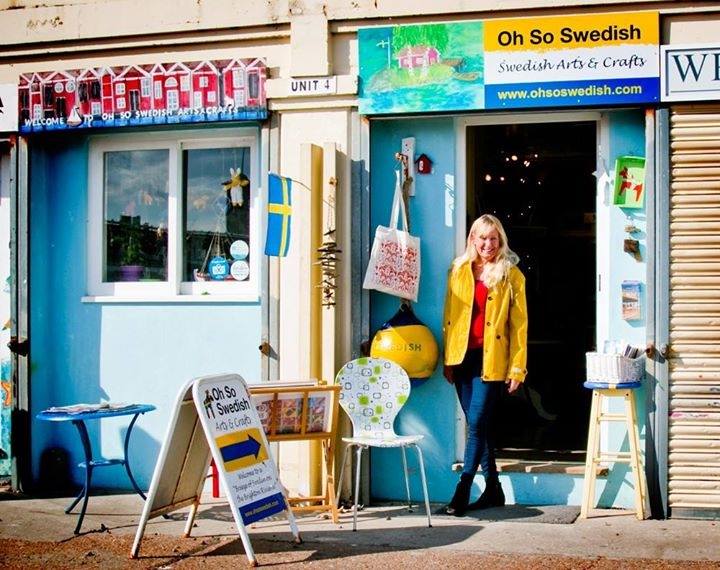 Oh So Swedish Arts & Crafts – "Little Sweden" on Brighton Beach…..more than Lagom
Welcome to Oh So Swedish Arts & Crafts, right on on the Brighton Beach between the Brighton Palace Pier & The Brighton Zip. A place to find special unique handmade gifts, created by me or from makers from different parts of Sweden. Some of my products are also available from my web shop.
 "A Smörgåsbord" of Swedish handmade crafts: wood, ceramic, textile and paintings & prints, upcycled designs with a Swedish twist and a large stock of Swedish Nostalgia Cards & Posters.  
Barnens Hörna (The Kids Corner) with special Swedish gifts for kids; books, cards & posters (Pippi Longstocking, Findus & Pettsson, Elsa Beskow).
Svenska Deckare & more : Second hand books in Swedish on the Yellow Book Shelf- Swap your Swedish books or buy a book for just 50p/each
Svenskt Godis & Saltlakrits: Swedish Sweets & Salty  Liquorice: We have a small selection of Swedish Sweets & Salty Liquorice from Sweetish:  Bilar, Djungelvrål, Tyrkisk Peber, Salty Fish, Soda Pops, Lemon Lips, Coca-Cola Dummies, Marabou Milk Chocolate/ Schweizernöt,Cocosprickar  & Center.
Brighton Tourism Information (+ some Swedish):  OhSo Swedish is one of the city's VisitBrighton Tourist Information Points (VIP),maps and brochures  and help and advice re places to visit, food & drink , attractions and events. Plus of course some Swedish Tourism information (informal). There is a small selection of free Swedish maps & leaflets from The Swedish Embassy in London.
CityStasher Luggage Point:  Short term Luggage Storage in Oh So Swedish offer visitors to store their luggage whilst enjoying the beach, the Palace Pier and other attractions without carrying heavy luggage.  From £4 /3 hrs  or £ 6/day Book and Pay online on http://www.citystasher.com https://www.citystasher.com/listings/brighton-pier
Workshops, exhibitions and traditional events with a Swedish signature: We also  offer Swedish crafts & cultural workshops (pre- booked) creating Swedish handmade crafts, hosting art exhibitions of  with Swedish/Scandinavian artist in Brighton,  organising special activities & offers around Swedish traditional events such Swedish Jul (Xmas), Midsummer  and other special days of the Swedish year.
Swedish Language: Offer help & advice for those who are interested to learn Swedish, how to find language tuition & courses in Brighton