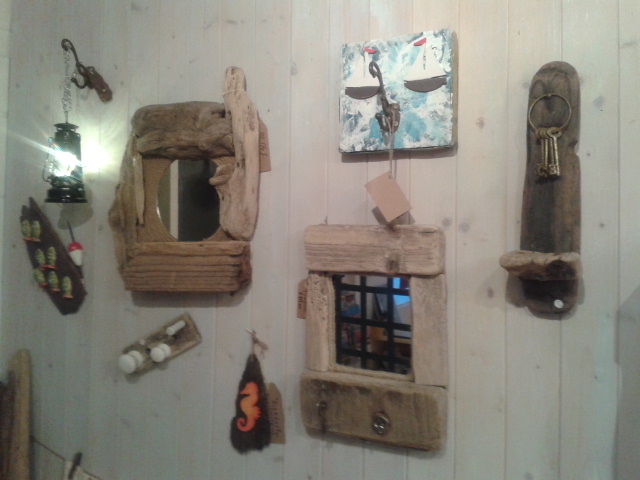 Welcome to Oh So Swedish & New Driftwood Wall Art
Welcome and have a look at newly arrived driftwood cards, mirrors hangers & hooks made by Driftwood Yards. All handmade & unique made from driftwood found along Brightons pebbled beach.
Driftwood Designs & Make by 2 Evas :
Eva 1 : Driftwood chunky mirrors, driftwood cards and more. This is truly handmade, one of it's kind designs from Eva Fuller/Driftwood Yard
Eva2: Seagulls wide driftwood hanger, Clay Perch Fish & Floats on driftwood, Sailing Boats & cast iron hook, Sea Horse and more from Eva/OhSoSwedish.
– Handmade and unique products – Made by the seaside, a combined touch of Scandinavian & Brightonian seaside style.
Please pop in an enjoy a stroll into the Swedish Seaside Shop & Gallery to feel rough textures of driftwood washed by the waves enhanced by the special shipyard scent of Swedish Tar Soap and Rope-Knot Keyrings from the Swedish west coast.
Welcome in to the Swedish Cottage right on the Brighton Riviera & next to the Brighton Pier.
Oh So Swedish Arts & Craft Studio and Workshop – open all-year round come rain come sun.
Additional Service and other range of products:
VIP point (VisitBrighton Information Point – leaflets, maps and enquires. In partnership with VisitBrighton.
Free Swedish maps/a small selection of Swedish tourist and facts brochures/leaflets about Sweden.
The Yellow Bookcase a small selection of  Swedish secondhand books & dvds.  Swedish Book swap *leave 2 books take one for free or buy for 50p up to 1 each/book.
Swedish Sweets  – a small selection of mixed bags with popular Sweets, Liquorice and Sour Sweets.
Temporary exhibitions of Swedish and Nordic artists and makers.
Workshops – small group workshops in Swedish style crafts.
Last but not least – very happy to answer questions and have a friendly chat about everything Sweden & Swedish.