Återvinna eller försvinna Recycle or discard? OhSoSwedish Upcycled old Ping Pong Bats turned Seaside Trivets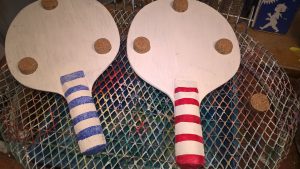 Amazing how much we throw away that could have a second life with a little bit of fantasy. – A 40+ year old pair of Ping-Pong bats that lost its rubber padding has now been turned Seaside Style Trivets with cork feet (also recycled).
A very bright red Up for Crabs  and a Blue News Anchor trivet painted in acrylic paint and varnished. Great for placing a hot small plate or a small saucepan on your dinner table.