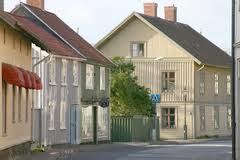 Good with wood – Three Wooden Towns in Sweden
Great stuff for tree and wood lovers. The well preserved towns of Eksjö, Nora and Hjo have each received The Europa Nostra award for conservation of buildings.

Situated next to Lake Vättern, the small and idyllic town Hjo, a real wooden town, well preserved buildings and lovely quirky beach huts in different colours. A town well worth to visit!  Make justice for the town slogan- I Love HJO.
Read more on http://www.tretrastader.se/english/