New Fresh Arrivals of Hand Made Tar Soap (60 g) with that Old Fashioned Scent of Summer, Sea and Shipyards.
A very Skinfriendly Soap with Ecofriendly Packaging-  The Perfect Gift for the Sailor!
Try the Tar Soap to the marine tunes of  Evert Taubes ;
" Möte i Monsunen"  (Meeting in the Monsoon)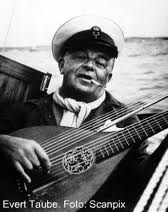 We met a ship in the cool monsoon
 where we steamed up the Red Sea,
a full-rigged ship that was and its name was Taifun,
which is now sailing from the East Indies to Good Hope
Our captain now gave orders that we would hoist the flag and we hoisted the yellow and blue, and the moment it blew there from the ship lift came Finland's white flag with the blue cross on.