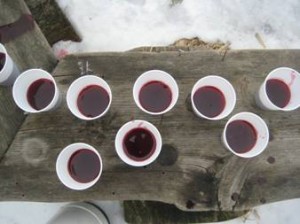 Vasaloppet  in Dalarna – A very Swedish Tradition on the 1st Sunday of March.  A 90 km cross-country skiing race in the footsteps of the nobleman, Gustaf Vasa, later King of Sweden.
He made this distance on Skies from Mora to Sälen 1520, when trying to escape the troops of Christian II, King of Denmark, Sweden and Norway (The Kalmar Union).
As a tradition the participants are served hot Blueberry Soup and the winner is greeted by a Kranskulla (a woman dressed in local costume, giving the winner the victory wreath)
Today's winner was Jörgen Brink  in record time of 3.38.41. I think he really deserved his Blueberry Soup.
Read more about on http://en.wikipedia.org/wiki/Vasaloppet and about today's winner http://svt.se/svt/road/Classic/department/603/jsp/Render.jsp?d=151138
Even Pippa Middleton took part in the race maybe escaping the troops of papparazzis http://svtplay.se/v/2731224/pippa_skymtades